Running Your Business at Peak Performance
Your Clients and the Market Demand Your Very Best
Start Here
Our Process
The Smart Sales Solution™ approach is a systematic sales strategy, designed to optimize and expedite the performer building effort.
Access
Set Goals
Plan & Build
Apply & Track
Featured Client

"Keith McKinney –The Navy Fighter Pilot – in coaching since 2007.  One of the most experienced Commercial and Residential Real Estate Broker in the country with over 40 years plus experience.  Keith oversees 150 commercial agents plus his own team.  Most of his transactions are 7 figures plus.  Keith began his career as a Navy Fighter Pilot flying "the Grumman S-2f anti-submarine warfare "Hunter Killer" aircraft and the Douglas A4-J Skyhawk" off the USS Coral Sea in 1973 during the Vietnam War. Keith has utilized his training to help him navigate stressful, complex and serious business/life issues while helping us to embrace and implement those as well.  His keys are:  1-Discipline, 2-Stay Cool and Calm (no matter what),  3- Spatial Awareness, (constant observation of what's going on around you) 4-Stay focused (don't let distractions obscure your focus).  He loves what he does and is all about the fundamentals, disciplines and accountability.   Video Testimony."
Keith McKinney, Coldwell Banker Bain Associates, Mercer Island, WA
Receive a free sales training
Build Instant Rapport
Learn 13 easy, but often overlooked or not utilized steps to Build Instant Rapport within ten seconds of your first meeting with your prospect.
Download the audio and build instant rapport!
Recent Articles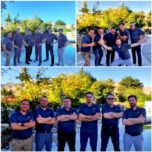 Lessons from the Masterminds: The Key to making 2020 Your Best Year!
Not only are we about to ring in a New Year but a new decade!  Very likely how we enter the 2020's versus how we ...
Read More